Parsons Corporation Joins Smart City Works Venture Studio as a Founding Member
Washington, D.C. – June 14, 2022; Smart City Works Venture Studios (SCWVS) today announced that Parsons Corporation (NYSE:PSN) is joining the Smart City Works Venture Studio as a "Disruptor" Member, adding to the growing list of members engaging with the Studio focused on the commercialization of infrastructure-focused innovation.
"We see a convergence between the imperative to revitalize and modernize our critical infrastructure and the existential imperative to enable much greater levels of sustainability and resiliency," said Don DeLoach, Co-Founder and Managing Partner at Smart City Works Venture Studio. "Technological innovation is at the intersection of this convergence, and we are dedicated to finding the most promising solutions in these areas, then providing an experienced team of entrepreneurs as an extension of these emerging companies to help them navigate the numerous execution risks as they strive to achieve scalable, repeatable commercialization." 
The Smart City Works Venture Studio is committed to identifying key trends and working with various alliances to find and heavily vet promising solutions focused on innovation opportunities in private, municipal, state, federal, and critical infrastructure segments.
"Parsons is on a mission to upgrade our world's critical infrastructure, which requires delivering fast, secure, sustainable solutions to our customers across all markets," said Ricardo Lorenzo, chief technology officer for Parsons. "As a member of Smart City Works Venture Studios, our teams will have industry-first access to emerging technologies that will help us achieve our mission and deliver the innovation at the core of all we do."
Smart City Works Venture Studio has both Corporate and Agency members, designed to facilitate a meaningful dialog about relevant innovation to benefit the Studio's corporations, agencies, and startups. The Disruptor level members are the top tier level, and two of the Disruptor members also participate on the Board of the Studio. Peter Torrellas, President of Connected Communities at Parsons, will also be joining the Board.
"I've been a member of Parsons' Critical Infrastructure Strategic Advisory Board for over two years now and I've seen how Parsons, led by Chair, President and CEO Carey Smith has embraced technology and digital innovations as key elements of their solutions for improving the infrastructure of cities, states, and national governments across the globe," said Tim McManus, Chairman of Smart City Works Venture Studios. "Peter Torrellas, President of Parsons' Connected Communities, has advanced the collaboration and convergence between Parsons' federal and critical infrastructure market segments over the last year and has become an industry leader and visionary in the EPC industry."
Smart City Works Venture Studio will commence operations this summer. Parsons joins NJ TRANSIT, Urban Movement Labs, WGI Engineering, and Civic Infrastructure Collaborative in the growing list of members in the Studio with a collective focus on technology and associated innovative processes that can make a difference in how infrastructure is developed, deployed, and maintained in terms of quality, accessibility, cost, and sustainability.
About Parsons
Parsons (NYSE: PSN) is a leading disruptive technology provider in the national security and critical infrastructure markets, with capabilities across cybersecurity, missile defense, space, C5ISR, transportation, environmental remediation, and water/wastewater treatment. Please visit Parsons.com and follow us on LinkedIn and Facebook to learn how we're making an impact.
About Smart City Works Venture Studio
Smart City Works Venture Studio helps to build startups for the cyber-physical infrastructure world by providing a team of experienced entrepreneurs who have substantial experience in IoT and infrastructure, product development, business planning, customer acquisition, finance, venture capital, as well as industry-specific expertise in smart cities, construction, smart buildings, mobility, energy, and the environment. Smart City Works Venture Studio is a joint initiative between Smart City Works Venture Labs, a next-generation business accelerator focused on urban infrastructure, and Rocket Wagon Venture Studios, the parent organization that provides the architectural cyber-physical framework, including considerations regarding devices, security, privacy, data governance and ownership, communications, and a broad range of analytics, as well as shared legal and financial services, underlying operational systems, and corporate relationships.
Parsons Contacts:
Bernadette Miller
bernadette.miller@parsons.com
980.253.9781
Smart City Works Venture Studio Contacts:
Don DeLoach
don@rwvstudios.com
Smart City Works Venture Labs:
David Heyman
dheyman@smartcityworks.io
Forward-Looking Statements
This document contains forward-looking statements within the meaning of the Private Securities Litigation Reform Act of 1995, Section 27A of the Securities Act of 1933, as amended, and Section 21E of the Securities Exchange Act of 1934, as amended. Forward-looking statements are based on our current expectations, beliefs and assumptions, and are not guarantees of future performance. Forward-looking statements are inherently subject to uncertainties, risks, changes in circumstances, trends, and factors that are difficult to predict, many of which are outside of our control. Accordingly, actual performance, results, and events may vary materially from those indicated in the forward-looking statements, and you should not rely on the forward-looking statements as predictions of future performance, results, or events. Numerous factors could cause actual future performance, results and events to differ materially from those indicated in the forward-looking statements, including, among others: any issue that compromises our relationships with the U.S. federal government or its agencies or other state, local, or foreign governments or agencies; any issues that damage our professional reputation; changes in governmental priorities that shift expenditures away from agencies or programs that we support; our dependence on long-term government contracts, which are subject to the government's budgetary approval process; the size of our addressable markets and the amount of government spending on private contractors; failure by us or our employees to obtain and maintain necessary security clearances or certifications; failure to comply with numerous laws and regulations; changes in government procurement, contract or other practices or the adoption by governments of new laws, rules, regulations, and programs in a manner adverse to us; the termination or nonrenewal of our government contracts, particularly our contracts with the U.S. federal government; our ability to compete effectively in the competitive bidding process and delays, contract terminations, or cancellations caused by competitors' protests of major contract awards received by us; our ability to generate revenue under certain of our contracts; any inability to attract, train, or retain employees with the requisite skills, experience, and security clearances; the loss of members of senior management or failure to develop new leaders; misconduct or other improper activities from our employees or subcontractors; our ability to realize the full value of our backlog and the timing of our receipt of revenue under contracts included in backlog; changes in the mix of our contracts and our ability to accurately estimate or otherwise recover expenses, time and resources for our contracts; changes in estimates used in recognizing revenue; internal system or service failures and security breaches; and inherent uncertainties and potential adverse developments in legal proceedings, including litigation, audits, reviews, and investigations, which may result in materially adverse judgments, settlements, or other unfavorable outcomes. These factors are not exhaustive and additional factors could adversely affect our business and financial performance. For a discussion of additional factors that could materially adversely affect our business and financial performance, see the factors included under the caption "Risk Factors" in our Registration Statement on Form S-1 and our other filings with the Securities and Exchange Commission. All forward-looking statements are based on currently available information and speak only as of the date on which they are made. We assume no obligation to update any forward-looking statement made in this presentation that becomes untrue because of subsequent events, new information or otherwise, except to the extent we are required to do so in connection with our ongoing requirements under federal securities laws.
###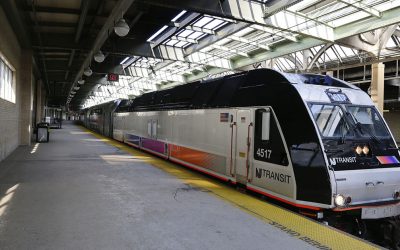 The nation's largest statewide public transit agency joins as an agency member of Smart City Works Venture Studio to continue to pursue proven innovation methods and best practices for using technology in delivering safe, affordable quality transportation to its customers.
read more